Well-known Midwives' Testimonials and Reviews about Birthing Gowns Miracle in the Heart
Since our Miracle in the Heart project collaborates with the world-renowned experts specializing in accompany of physiological births, we consulted with the following midwives in the creation of the Protective Charm Birthing Gowns: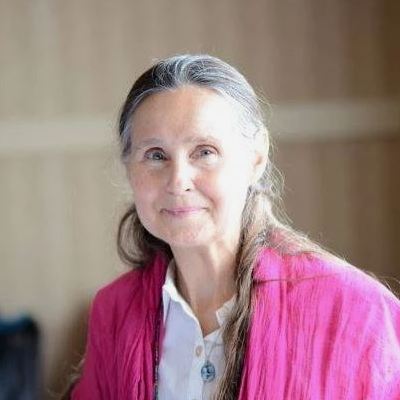 1. Sister MorningStar (USA), mother of 3, writer, Cherokee midwife, speaker of Midwifery Today, Inc. speaker and contributor,
"Look at your creativity flow! You have my blessing and of course i see the charm and beauty that adorns all birthing/nursing mothers but Russian/Ukrainian mothers are some of the most beautiful in this world we share. May this serve the soul as well as the body of birth! Yes, all these considerations [concerning the gown design and obstetric cut] sound important though I am most accustomed to a simple blanket and thereby allowing for privacy if strangers present and nudity, which is natural when actually birthing and nursing the first 40 days in privacy of own environment. Other who work in more public settings [e.g. hospitals] or entertaining guests would know more about the need for constrictive clothing and birthing gowns."
---
2. Ruth Ehrhardt (South Africa), mother of 4, certified professional and traditional midwife, doula, public figure, midwives' coach, author of The Basic Needs of a Woman in Labour with the foreword of Michel Odent,
"The gowns are very beautiful!.. To be honest, I am used to working with women who are mostly naked by the time they birth and I think you will have to have a few mothers try it and give feedback for how it was for them... And blessings on all you do for mothers and birth!"
---
3. Natalia Kotlar (Russia), mother of 5, midwife, D.Sc. in Psychology, educator, writer,
"It was high time to pay attention to this. The design is beautiful. The length of the gown might be shorter for the active phase of birth, although many of our mothers in the active phase [at homebirth] are completely naked, if desired. "
---
4. Valentina Octrogilad (Ukraine), mother of 6, hereditary midwife, doula, perinatal psychologist, protective charm craftswoman,
"Gowns are lovely indeed! .. This question [the choice of birthing clothes] arises very often, but someone ignores this ... Now [at birth] it is very important that a woman feels right at home; to let feel relaxed, to let the body feels good of the touches of the clothes; to let the patterns painted on these clothes (this is also of great importance) inspire! The pattern that you imagine, for example, a flower or a stork as a symbol that brings children ... Each woman has her own vision (for instance, a swallow or her own flower). I think you will develop, and you will have other symbols (the Tree of Life, for example) ... Everything matters!.. These gowns are with the energy of giving and joy!
It would be great if relatives would give the gown to the woman (mother, husband, sister, brother ..) It's like protection! Childbirth will be once, it won't rewind like a film ... and the woman will remember for a lifetime! Let's get ready for this, let's organize it ... This clothes of yours will be resourceful! You will remember the birth, you will touch it [the gown], you will wear it while you are still at home, feed the baby, this is for a long time. It's such tenderness, such feelings, while it remains the baby! This period, while you breastfeed, is a life value! So create beauty around you! You are as one with the baby!"
In addition, Ukrainian doulas accompanying hospital deliveries were involved in consultations on our gowns. Since these doulas are not internationally known, we do not list their names here.
---
At the same time, we have a review from the doula Galina Mukha (Ukraine), mother of 2, professional in antepartum and postpartum care,
"Thanks a lot! So wonderful! I would just buy this for myself :). This is brilliant what you did! And very beautiful! This is so lacking! This is just a gift for women. Ingenious. I wish you success! I'll tell everyone now that there is such a miracle as you are!"
---
Protective charm craftswoman Tatiana Rappoport-Maslennikova (USA, Ukraine), mother of 4, also responded by writing,
"The gowns are amazing! It's great that now there are! If it happened earlier, I'd have acquired such a thing for myself :)"
---
Yekaterina Osochenko (Russia), mother of 6, writer, journalist, yogi, co-designer and consultant of Protective Charm Birthing Gowns "Miracle in the Heart",
"One upon a time four Mothers gathered together. Those mothers had in total for all 15 children (!), and that meant fifteen personal motherhood stories! :). So the four of us have come together and are thinking, "How can we help current and future mothers? We'd like to create something beautiful for our pregnant women!.."
Magical midwifery chemises! (Those four women gave birth so many times! - oh, that's what we should have at one time!)... I see now that the gowns invented by us do not stand still - in a new quality, with new meanings they will go out into the world :)...
I am very grateful to Svetlana, Olga and Tatiana for the fact that they found the strength and faith in themselves to give such a form to the gowns! Let the Birthing Gowns be safe! Let them fly to many mothers and bring them well-being!"
---
Order the Birthing Gown
Thank you so much, dear all, for your feedback, wishes and blessings! Filled with reviews and blessings from mothers and experts, we release Birthing Gowns to the world! Let them fulfill their mission, and bring purity, celebration and light, serving the Woman and her Baby!
---
Our mission is popularisation of natural, non-medical approach in blessed conception, natural childbirth and conscious parenting. We help women and families to prepare for childbirth, as well as to find like-minded people and experts-assistants in childbirth for the sake of Miracle of birth worldwide.
Published on:
28.03.2020