Results of the Survey of Women of Ukraine about their Ideal Place for Natural Childbirth
We, like other mammals, need to feel both safe and protected to give birth easily.
~Michel Odent
In the near future, Ukraine can expect such changes as the legalization of home midwifery, the creation of wards for birth in maternity hospitals (for natural childbirth) and training for medical staff to assist in natural childbirth.
In response to many years of work conducted by public organizations and women's opposition against medical aggression, the Administration of the Maternity Hospital No. 5 in Kiev has taken an initiative to organise a number of meetings with doctors, home midwives, doulas, and moms to discuss further cooperation since September 2017.
In this regard, an active group comprising the social project Miracle in the Heart (Olga and Svetlana), Nadezhda Zelenaya, a home midwife, and Tatyana Pershina, a prenatal psychologist in the Kyiv Maternity Hospital No.5, conducted an Internet poll "Describe Your Ideal Place for Natural Childbirth and Help to Create it".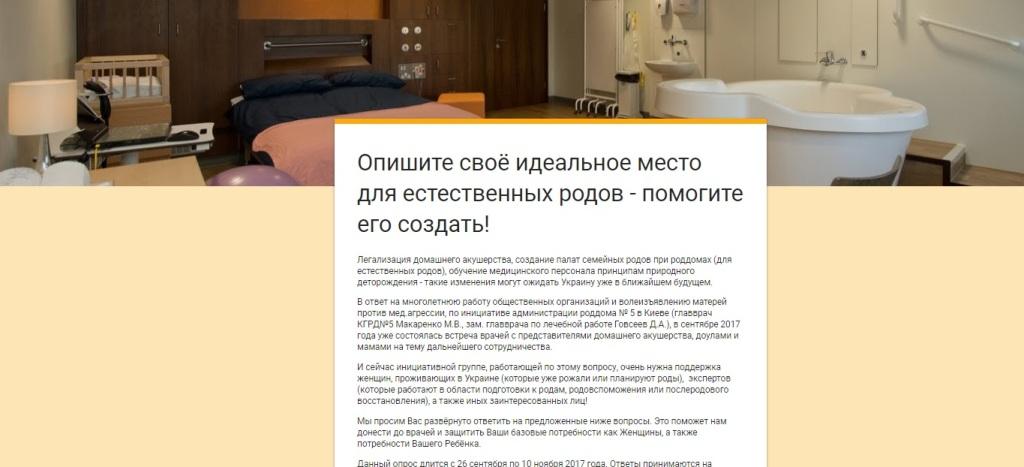 The online survey has been conducted from September 26 to November 20, 2017, to ensure an efficient work of the project "Natural Childbirth under the Protection of the Maternity Hospital". The responses were accepted in Russian and Ukrainian.
The results of the Survey reflect those needs of women (especially basic needs) in childbirth and postpartum that now underestimated, insufficiently realized, taken into account and protected by the medical community, birthkeepers, and birth workers.
To ensure greater comfort and frankness for women, this online survey was completely anonymous. It should be also noted that the questions were of the open type, i.e. it did not offer ready-made solutions or a list of answers, but it contained a field where women could provide detailed answers to the relevant extent for women.
General information
The survey involved residents of Ukraine, whose births took place from 1998 to 2017. The survey accounted for 66 people and it involved women aged 21-50. The prevailing number of respondents is aged 31-35. The first children were born between 20 and 37 years old.
Some of the respondents are mothers who gave birth to children in maternity hospitals (60%), some of them gave birth to their children at home (2-3 children) (21%), some did not give birth (17%), and are currently pregnant (2%). The majority of respondents (43%) has two children, and 31% have one child. In total 96 children were born among the interviewed women giving birth in Ukraine. Of these, 64.6% were deliveries in maternity hospitals and perinatal centres, and 33.3% were deliveries at home.
10% of deliveries of the first child took place at home while 20% of second and more children were born at home.
The geographic scope of the survey covers 8 regions of Ukraine, including the territory where Ukrainian authorities temporarily do not exercise or do not fully exercise their power (the East of Ukraine is a military territory now), as well as 2 cities in the Russian Federation. For the most part (78.6%), the activities of women participated in the survey are not related to childbirth, and only 12.5% of women answered that they work in this area (training, support, and postpartum support).
For a convenient and evidence-based examination of the questionnaire's results, the study quotes respondents' answers (in quotation marks). The results of this study are provided in Russian so that citizens of different countries can familiarize themselves with the study.
The Report of the Survey results contains 5 diagrams, 6 tables and 2 Appendices (The New Vocabulary for the birth workers from Debra Pascali-Bonaro "Language of Pleasure" and the Substantiation of the Necessity of the Acceptation of the Law about "Midwife Care Service in Ukraine").
Women were asked to answer the following questions:
1. Please, describe maternity centres and/or wards (units) of maternity hospitals comfortable for you to give birth?
2. Please, provide an overview of your ideal childbirth in such a place.
3. What kind of the interaction between you and the maternity hospital staff would be the best for you?
4. What is unacceptable from the part of the staff in relation to you (your family, child)?
5. Please, indicate the medical terms and everyday expressions, which might be stressful, frightening, or make you feel uncomfortable?
6. Please, specify the messages and describe behaviour/attitude of the maternity hospital staff that you would like to get during your ideal birth.
7. Please, tell us briefly about yourself, and any information you wish to provide - age, place of residence, occupation, whether your activity related to natural childbirth?
8. Did you give birth in Ukraine?
9. Please, provide us with any details on your childbirth - the city where you gave birth, birth date, process of birth, any remarks on how the delivery went, whether you experienced a feeling of dissatisfaction or fears following previous births as well as any other information, which might seem relevant to you to share.
The examination of these questions makes possible to draw the following intermediate conclusions:
1. All respondents, except for those preferred homebirths, said that they would like to have emergency care equipment for themselves and a child. It could be neatly arranged in cabinets or behind a screen.
2. All respondents accorded priority attention during the childbirth to the sense of security (privacy, a few people nearby, including the loved ones and full soundproofing), calm and trustful atmosphere, the lack of verbal communication, freedom in choosing places and poses during contractions and labour, friendly, non-intrusive and qualified personnel intervening after the call of woman in labour or her relatives.
3. Around 10% of the respondents wanted to avoid any interaction with the maternity hospital staff and gave preference to the interaction through the husband or another accompanying person.
4. The overwhelming majority of women wanted to pay for health services officially, through the cashier and without the so-called practice of giving envelopes with money or any additional material consideration. The amount of the services in the maternity hospital should be fixed and known in advance (a price list).
5. Most women experienced stress in a situation when the medical staff in the maternity hospital:
intimidates;
imposes their opinion;
refers to a woman in labour in an orderly fashion;
gives ultimatums.
6. Women feel traumatized and the birth process is complicated when the medical staff:
demonstrates unprofessionalism or give a wrongful explanation;
yells, being sarcastic or makes inappropriate jokes;
directly accuses a woman in labour in the wrongness of her actions;
prohibits to express emotions and screams during the childbirth;
provides medical terms without interpretation;
acts as it yet another woman in labour ("like to a pipeline"), a lack of personal treatment;
ignores questions and requests;
assesses behaviour, mindset, religious views of a woman in labour and her family members;
forces to give birth as soon as possible.
7. The top messages women wish to hear during contractions and postpartum are related to the following:
positive attitude and compliments;
encouragement and support;
expression of care and respect;
comfort and faith in a woman's ability to give birth without interference.
8. Around 2% of the respondents named their home as an ideal place for their births, which either already taken place or would take place. In addition, the respondents "dream to legalize a home midwifery".
---
Further, we suggest you familiarize with a detailed analysis (in Russian) of the answers provided for the survey with respondents' quotes to confirm the conclusions, the tables, and diagrams.
---
We would like to note that the main message of women in Ukraine, according to the questionnaire, can be summed up as follows:
1. A secluded place is needed for a safe delivery, well-being, and health of mother and child. It should be a place where a woman "could feel privacy and safety" ("The name does not matter to me. The atmosphere is important. I want to feel privacy during my childbirth". "It would be better if they (personnel) were like a shadow and manifest only if necessary").
2. 5% of women choose exceptionally their own home as an ideal place to give birth. 1% out of them admit that they would choose a birth centre to give their first birth*.
3. The staff of the maternity hospital staff or a birth centre staff need to realise that a woman in labour is at the centre during her birth process. Thus, it is important to know, understand and protect a woman's basic needs during childbirth and in the first hours after birth ("It seems that if the maternity hospital staff genuinely care about its work, realize the value of life and natural childbirth, many issues related to the tone, actions and terminology will disappear by themselves").
4. Any conversation disturbs a woman in labour and forces her to reflect (activates her neocortex), which slows down and complicates the birth process. Ultimately it negatively affects the health of a mother and a newborn.
5. All medical interventions with a woman in labour and child - except for the emergency care should take place with the informed consent of a woman or accompanying person/persons.
6. The abovementioned women's accounts make possible to elaborate a separate dictionary for birthkeepers and birthworkers. We are sure that they will enjoy great respect and success among women in labour, and the birth process will be joyful and easy!

We printed out these Results as a brochure and sent it out to the maternity hospital No 5 in Kyiv as they're our partners in the project 'Natural Childbirth Protected by the Maternity Hospital".

Of course, we were crying a lot while we were reading those Survey responses...
Afterwards, we could compile our own New Vocabulary for the maternity hospital staff and birth centres staff basing on the tables we formed from the women's desirable phrases to hear and their preferred behavior from the staff.
Our official letter to the Ministry of Health in Ukraine (MHU) has been sent to the chief of one of the departments of MHU containing the brochure of the results of that Survey and the request to support women's loud request to legalize home midwifery, to create birthing centres, to install home-like rooms in maternity hospitals and do it not only in the capital (Kyiv) but throughout Ukraine.

If the abovementioned points are to be kept in mind, to use in practice and to integrate into the mindset of pregnant women, women in labour, their loved ones and most importantly, assistants in childbirth, then as was noted by the mother of two in the survey, "then, with a due care of assistants regarding a woman in labour - and not only through the "ideal" entourage, you can count on such indicators as in BirthVillage Natural Birthing Centre, India."

* Every third of the surveyed women (35%) would like to birth her next baby in a birth centre, and every fifth woman (18%) considers the best for her to give birth with a professional midwife at home [A survey spread among the Ukrainian women in February-March 2015 asking them to report on their childbirth experiences. This survey has resulted in 3,526 responses from Ukrainian women who gave birth in Ukraine between 2009 and 2015. The National Report of Ukraine on HRiC was based on this survey too (2016)].
We sincerely thank women who took part in the Survey, for their strong and precious desire to give Life to their babies, and for their great toil in the preparation for childbirth!

Our mission is popularisation of natural, non-medical approach in blessed conception, natural childbirth and conscious parenting. We help women and families to prepare for childbirth, as well as to find like-minded people and experts-assistants in childbirth for the sake of Miracle of birth worldwide.
Published on:
14.02.2018