World's First Birthing Village Gravita (Brazil, Paraty)
Welcome to the First Birthing Village Gravita!
Imagine the optimum place for a natural childbirth, where parents-to-be create their own "birthing nest" during pregnancy, living in one of 150 separate huts of an eco-village located in relict forests of Brazil on the ocean coast Costa Verde, between the famous Rio de Janeiro and Sao Paulo.
Here, a woman immerses into a deep comprehensive preparation for natural childbirth with understanding and protection of the basic needs in childbirth and postpartum, and gently gives birth to the baby in any postures, in silence and safety of the familiar space with careful accompaniment of the chosen authentic midwife or, at the request of the woman, without an assistant in childbirth. No stress from a change of conditions, moving from home to a hospital, rush, talking with unfriendly medical staff, the need to solve everyday problems in an unfamiliar environment yourself.
Brazil allows most countries residents a 6-month visa-free stay in the country.
It is conceived that everything necessary for life is located on the territory of the village, creating a special eco-infrastructure:
vegetarian restaurant,
eco-shops and stores,
spots for classes in preparation for childbirth and motherhood (open areas and indoor halls),
pool and beach,
walking pathways in the forest and along the stream,
rooms of midwives and perinatal specialists,
care service and administration,
kindergarten with children of different ages,
playgrounds,
art locations,
open air cinema, etc.
All this allow spending the last months of pregnancy, childbirth and the first time with a newborn with benefit and pleasure.
At the same time, GRAVITA remains extremely accessible due to the use of the principles of voluntary donation (for preparing for childbirth and accompanying it, there is no recommended donation amount) and the natural economy (own farming and solar energy).
After childbirth, the family can stay in the Village for as long as they want (visa-free stay for up to six months for citizens of most countries) surrounded by people who are close in spirit and worldview.
9 features making Birthing Village GRAVITA unique and the world's first one
Nowhere, except homebirth,

the formation of the adaptive microbiota

is ensured. Within 1.5-2 months, the necessary microbiome (microbiota, internal bacterial world) is formed, which is necessary for the intrauterine baby, for the transmission during childbirth and subsequent settlement in "his own, home" environment. Maternity hospitals, birthing centres and birthing hotels cannot provide this most important nuance for mother and child!
Deep

respect for the Woman and Mother.

This is an area with understanding and protection of the

basic needs

of women and children in childbirth and the early postpartum.
A woman gives birth in accordance with nature, and we protect and create a favourable space by the whole village community.

The quality of our midwives

, their authenticity, worldview and attitude fully coincides with our mission.

Eco friendly homes

(a complex of eco-friendly dwellings for every taste and budget (about 150 houses, a hostel, camping), harmoniously inscribed into the natural landscape).
A circle of pregnant women, mothers with positive experience in childbirth and authentic midwives (or midwives with in-depth knowledge and respect for the physiology of women and childbirth) support you throughout your stay in the Village! Michel Odent in Pithiviers created such "warm circles" for pregnant women (chants, joint needlework, etc.). That united environment and condition that we want pregnancy, childbirth, the postpartum period to take place in our Village: calmly, pleasantly, benevolently, ensuring maximum privacy and protection of the birth space! All around are "in oxytocin" - either in anticipation of childbirth, or in the postpartum and conscious parenthood!
Obstetrics has become commercialized in the world. In our Village there is

NO payment for childbirth

(there is no recommended donation for midwife or doula), only payment for rental housing, transport, communications and preparatory parenting courses.

15-minute availability of a high-tech hospital with free medical assistance to foreigners

(including C-section!). In Brazil, there is no negative attitude towards home birth and that is why there doctors take care of women in labour carefully and with respect.

The lack of rush

and all kinds of acceleration of the "passability" of the Village, as in maternity hospitals and birthing centers. You give birth when nature chooses it, you give birth as you choose and your birth lasts as long as your body and soul need.
Mission of the Birthing Village
Our mission is to enable every child in the world, regardless of the financial situation and place of residence of his parents, to be born in ideal home and environmental conditions in the most healthy and safe way while protecting the basic needs of a woman and baby during childbirth and in the first hours after them. Research by M. Odent, G. Brekhman, S. Grof, I.M. Gaskin manifest that the way a baby is born directly and significantly affects its subsequent health, ability to love and empathy, confidence in the world. The future of both the person and the world itself depends on how exactly a new person comes into this world, how the world meets him.
Childbirth is the most important basic event in the life of a child and mother, which has a profound effect on their future destiny and the destiny of the family. We not only preserve knowledge about natural childbirth, but also transfer knowledge and faith to women to give birth to their next children.
We're seeking Patrons and Sponsors
Russian-speaking couples for home birth are already arriving in Paraty. They rent houses near the house of the authors of the project GRAVITA, the spouses Lucy Maratkanova and Kolya Zharov, in order to prepare for soft births in love and with like-minded people. Lucy as an authentic midwife helps them make this dream a reality, and Kolya as a translator helps to solve all legal, organizational and technical issues. Such couples are not an exceptional case; the schedule is full for six months ahead.
We create a large-scale and full-fledged symbiosis for your magical birth, which lives and acts as a single organism, which is a place of power. Therefore, it has its own energy supported by authentic midwives and a powerful infrastructure, comfortable for life and childbirth.
We are only at the beginning of this wonderful journey. We believe that worthwhile patrons and sponsors will "gravitate" to our GRAVITA project, and contribute to make our dream come true.
At the moment the GRAVITA project is at the stage of purchasing land, which is half an hour from the ocean. This is 20 hectares of relict forest (in Brazil, Paraty is a UNESCO-protected area), where now there are an operating restaurant and a large house with several guest houses.
We are looking for sponsors and patrons who share our values.
We heartily invite you, dear pregnant women, home midwives and doulas, to help us in this search and favour, since it is for you to live and give birth there!
Perhaps this place is for you? We plan to live there and meet you! We really want this idea to serve as the "first sign" that paves the way for the creation of similar villages in other countries, thus forming a Birthing Villages Network.
What contribution can you, pregnant women and experts, make right now?
favour the GRAVITA project among the mighty of this world :);
introduce the organizers personally to such mighty people;
talk about GRAVITA in your web resources;
communicating with pregnant women, mention GRAVITA;
other actions obvious to you :).
We'd like to highlight that in our Village there is NO payment for childbirth (there is no recommended donation for midwife or doula), only payment for rental housing, transport, facilities and preparatory parenting courses. This is not a commercial project! Therefore, we are looking for patrons and sponsors, not investors.
You can contact us the same way: by emailing to proestrofest.info@gmail.com or our other contacts.
---
Why Brazil is the area for the First Birthing Village?
Legal home midwifery.
Respected authentic midwifery, including by doctors who calmly take a woman in labour from home birth.
Unique

natural conditions

(mountains, ocean beaches, waterfalls, forests) and a comfortable climate without sharp seasonal changes, clean air and water, authentic colonial architecture.
A child born in the country

automatically becomes a citizen of Brazil

, and the family can acquire permanent residence and a second citizenship under an accelerated procedure.
The chance for a

6-month visa-free-stay

in Brazil for most countries.
The

peaceful

population of Paraty and its special cultural status in the country.
Paraty is

protected by UNESCO as a cultural heritage of mankind

. Various events, festivals, concerts, exhibitions are regularly held here.
As the pilot model is tested, similar villages will be built in other countries, forming the Global GRAVITA Network.
Why is the name
GRAVITA?
gravita (Lat. gravitas)

- seriousness, strength, action, persuasiveness, dignity, influence;

Gravida (Portuguese. grávida)

- pregnant;

gravity (gravity)

- the basic fundamental force of the Earth's mother.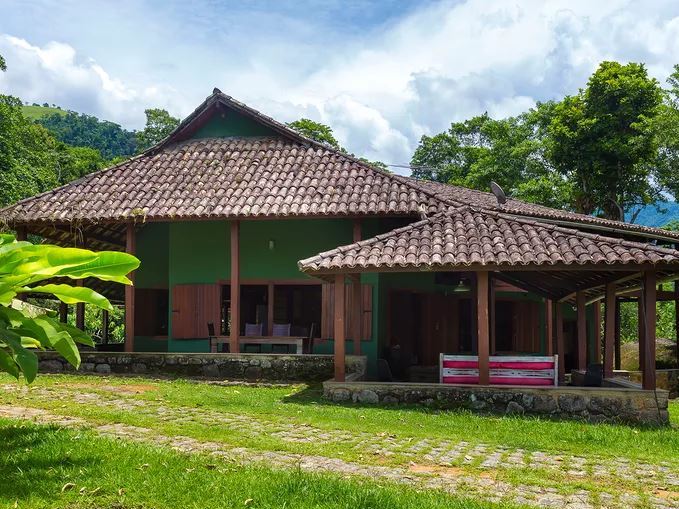 For whom is the First Birthing Village?
Women

living in countries in which they

see negative consequences for themselves in hospital deliveries.

Mothers

whose access to alternative natural options for organizing childbirth is

difficult

(lack of specialists and / or birthing centres, prosecution of home obstetrics, high cost of services).

Future parents

living in

environmentally disadvantaged places

or in regions with a harsh climate, looking for options for a temporary change of place of residence during pregnancy and childbirth.

Pregnant women deprived of the help of the father of the child

, and therefore especially in need of a supportive environment and careful accompaniment in this vulnerable period.

Poor

pregnant women and couples with a really difficult life situation.

Brazilian women

who do not want to get into the huge percentage of deliveries using Caesarean section (in some states of Brazil - up to 90%. Brazil is the first in the world in the ranking of countries by C-section).
Who we are and why we do it?
We clearly distinguish between the concepts of "services" and "serving". We serve the world in the ways that choose us:) with those who are close to us. We combine the power of two soulful social projects - Miracle in the Heart and Gravity - to create something new and truly unique - the GRAVITA Global Birthing Village Network.
Let's get acquainted:
GRAVITACIA is the world maternal movement for healthy birth, which was created by a family of social activists, travellers, bloggers and, of course, happy parents - Kolya Zharov and Lucy Maratkanova.
Here is what the guys write about themselves:
"On January 31, 2017, our son was born in the planned home birth in the cosy Brazilian town of Paraty. This amazing, transforming Event has opened our eyes to what childbirth can be like when it takes place not in a hospital, but in a comfortable home environment without medical intervention and stress. In response to our detailed story (on behalf of mom and dad), we received an incredibly powerful feedback: we were thanked for inspiration, bombarded with questions, and consultations. Further more! Since then, we have helped three pregnant families to repeat our experience here in Paraty. Friends joked at us, "Are you establishing "a pregnant colony" in Brazil there, or what?"
And now, 360 days after the birth of a son, the jokes suddenly ended. We somehow realized at once that this is the great good deed that has itself chosen us. All events, all our diverse experience imperceptibly led us to a simple realization: the future of both a person and the world depends on how exactly a new person comes into this world, how the world meets him. In order to launch global cascading positive changes of mankind, to let love and compassion into our world to replace aggression and cruelty, it is necessary to change the very beginning of human life.
And it makes us goosebumps from the realization that we can be involved in the big changes that are obviously ripening in the world. "
You can find out more about the GRAVITACIA project (in Russian):
The social Miracle in the Heart project (30 countries of 5 continents), on the website of which you read these lines, was created by two conscious mothers from Ukraine - Svetlana Demianova-Ponomarenko and Olga Vishkina, Midwifery Today, Inc. Country Contact for Ukraine.
By conceiving – we like this word very much :) – our Miracle in the Heart project, we were pursuing one of the highest goals to serve the world by helping in uniting like-minded people through natural parenting, informational and consulting assistance to everyone who asks us and experts of the project, and to raise awareness on natural childbirth in the world.
"Since 2014, we have been carrying out comprehensive educational, research and journalistic activities in natural childbirth, family rights protection of family rights, and humanization of modern obstetric care in collaboration with international professional organizations (Midwifery Today Inc., AIMS, Human Rights in Childbirth, European Doula Network, International MotherBaby Childbirth Initiative, etc.) We conducted three international free online festivals on natural childbirth (up to 60 speakers from 5 continents)."

You can find out more about the Miracle in the Heart project: